Discover more from networked
Exploring the interplay between politics, technology, journalism, and (sometimes) advertising. Sporadically polemical.
The hard thing about...much harder things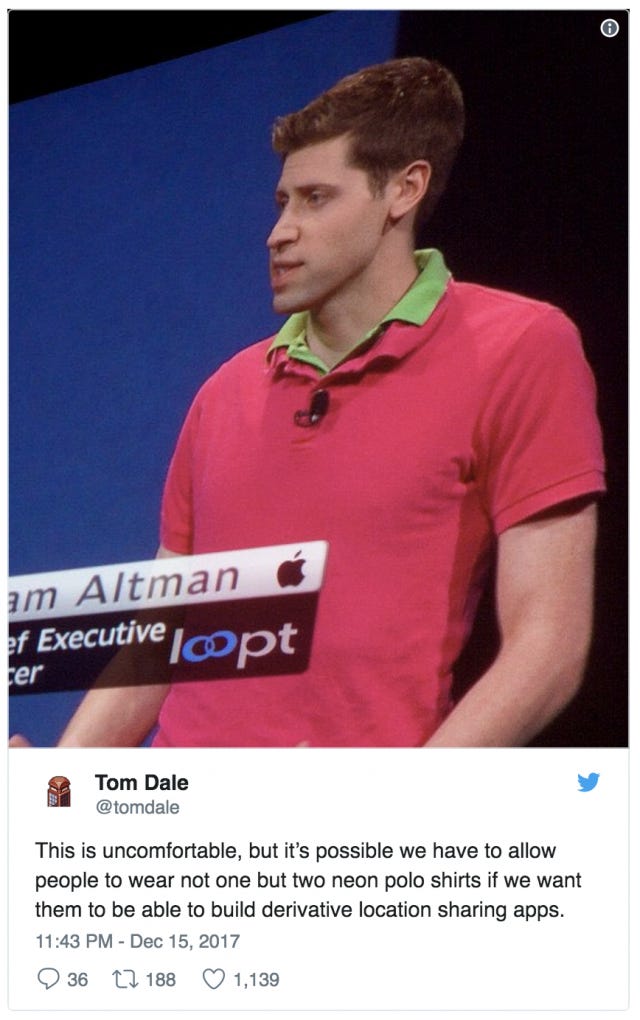 ---

Why are famous tech people so often saying stupid things about society?

Sam Altman is the president of Y Combinator, the most prestigious startup incubator in Silicon Valley. On Thursday, he wrote a piece railing against "political correctness" (a term I've placed in quotes since I've yet to read a definition with any coherence):
Restricting speech leads to restricting ideas and therefore restricted innovation—the most successful societies have generally been the most open ones...Also, smart people tend to have an allergic reaction to the restriction of ideas, and I'm now seeing many of the smartest people I know move elsewhere.
He further claimed that the intellectual atmosphere in the Valley has become so poisonous that he "felt more comfortable discussing controversial ideas in Beijing than in San Francisco." (Dissidents might dissent.)

More controversially, Altman (who is gay) mused: "This is uncomfortable, but it's possible we have to allow people to say disparaging things about gay people if we want them to be able to say novel things about physics."

If that logic is so garbled you can't tell if it was written by a human or a machine, then congrats: it passed the Turing test. This is a test named for a brilliant computer scientist who was chemically castrated for his homosexuality.

Anyway.
In a follow-up post aptly titled "A Clarification," Altman simultaneously walked back and expounded upon his original thesis, declaring: "We need to allow free speech because sometimes society is wrong." Of course, as plenty of others observed, this statement is a solution in search of a problem. (One might say there's no product-market fit for his idea.) Free speech is the status quo: Altman seems to equate external criticism of the tech sector with an impingement of his own rights.

I don't mean to pick on Altman. Honestly, I'm not fully convinced the ideas of the typical Silicon Valley luminary are necessarily any worse or less informed than the average person's (although this point is certainly arguable). But their control over the apps and tools that millions use daily brings with it a social cachet that is much, much higher than that of a random person. And thus we are obliged to take their ideas more seriously.

The problem is that these ideas are often indistinguishable from the late-night pontifications of your freshman-year libertarian roommate, rather than unique contributions to a substantive conversation. Examples of this are too numerous to list exhaustively. But here's Altman's mentor and tech legend Paul Graham, implying all criticism of Silicon Valley is a priori wrong. Here's Graham, again, defending economic inequality. Here's angel investor Jason Calacanis casually trading the lives of 2.5 million North Koreans for a shot at regime change. Here's Andreessen Horowitz partner Benedict Evans blithely describing the past 16 years of commentary on the tech industry as universally negative. (And here he is blocking me for challenging the point.) Here's Mark Zuckerberg saying that it's "a pretty crazy idea" that fake news on Facebook "influenced [last year's] presidential election in any way," and here's his company admitting less than a year later that 126 million Americans were exposed to a vast Russian misinformation campaign.

This list could drone on endlessly. But the common thread underlying most of these comments is a genuine inability to understand why the world at large fails to see all manifestations of technology as an unalloyed social good. It's why, for example, Altman found himself surprised by criticisms of Zuckerberg's announcement to donate his riches to charity -- even though the critiques were not entirely meritless or originating from envy. (Indeed, this bewilderment may also have played a role in the relative failure of some of the Facebook founder's well-meaning charitable giving.)

There's an unattributed axiom I've seen floating around that goes something like: "To the privileged, equality feels like oppression." I've been thinking about this a lot lately in regards to tech giants. Scott Galloway, an NYU marketing professor, made much the same point during a presentation he delivered last month:
I want to acknowledge up front: there's a ton of great stuff happening on these platforms [Facebook, Google, Apple, and Amazon]...But until about three months ago, that is literally all we talked about. And we have to have an adult conversation about both the upsides and the downsides, and I feel like for the first time we're having a serious conversation.
Indeed, the rapturous acclaim often afforded by journalists to the tech industry for years is slowly giving way to the more detached analysis common to many other beats such as politics or traditional business news. This is a long-overdue adjustment that, by all appearances, not everyone in Silicon Valley is thrilled about. (Some, like the VC Hunter Walk, are more amenable to it.) But it is certainly one worth having.

P.S. Somehow, I managed to write a whole newsletter on stupidity in Silicon Valley and never mentioned Peter Thiel. I'm sorry, and I won't let this happen again.

Reading list: