Discover more from networked
Exploring the interplay between politics, technology, journalism, and (sometimes) advertising. Sporadically polemical.
All the news that's fit to plagiarize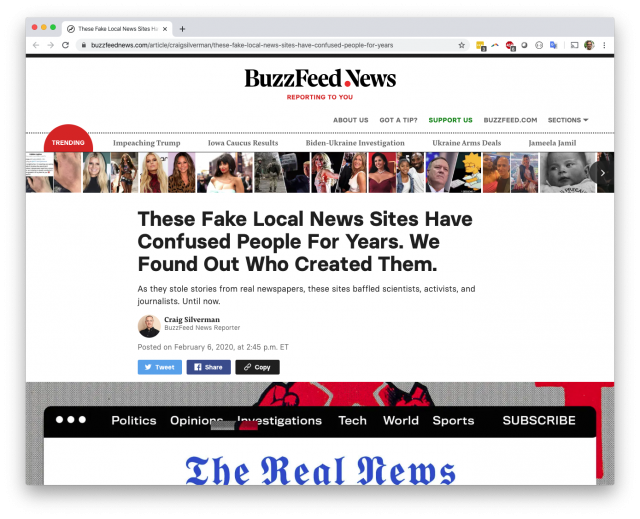 In the past few weeks I haven't had the time to update this newsletter as often as I'd like (despite having a number of interesting topics I've been meaning to write about). So I'm going to take this as a cheat day. Instead of writing something long and interesting myself, I'll just link to this Buzzfeed article by Craig Silverman about a newly discovered network of plagiarized news sites:
Jay Pinho and his wife, Victoria, rely on Google Alerts to track the public appearances of US Supreme Court justices on their website, SCOTUS Map. But late last year, the results began to worry them.

"A crop of news [website] domains were popping up that I'd never heard of before, and they were often publishing directly plagiarized pieces from real outlets," he told BuzzFeed News.

In addition to being plagiarized, the content flooding his Google Alert results was often at least a year old. Adding to the confusion, it was published on websites that at first glance seemed like legitimate local news sites, with names like the Livingston Ledger, Denton Daily, and Hoback Herald. They also noticed another set of financial news sites doing the same thing, with names like Stock Daily Dish and Daily Stock Dish.
TL;DR: It me. (As the kids say?) Late last year, I noticed a bunch of Google News alert emails with nonsensically outdated stories being published on web sites I'd never heard of before. I touched base with Craig Silverman, the Internet-era éminence grise of disinformation investigations, and ended up collaborating on an effort to determine who was behind all these sites.

It's a fun read and, like most dystopian Internet tales these days, the online ad tech ecosystem is one of the chief villains.